Journey through the watercolor world
of Diana Miller-Pierce and Trillium Studio!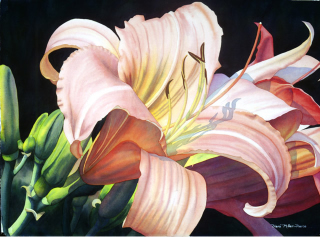 Purchase this painting on the Floral Gallery Page!
Diana Miller-Pierce is a traditional watercolorist in the impressionistic style. While her work is painted in a traditional impressionistic style, Ms. Miller-Pierce involves a strong sense of abstraction in the underlying composition of the paintings.
Her painting involve strong clear light that casts shadows on her subject matter. She looks for a composition of dark and light patterns that help to create the dynamic tension and energy. Last but not least, she uses color to enhance the images and enchant the viewer.
She specializes in painting floral, architectural, mechanical, cats and still life subjects, which have been influenced by her travels in the Caribbean and Southwestern United States.
Our Name, Explained
Trillium Studio is named for the three types of trillium which bloom in the wooded area outside her studio windows.
A Bit About The Artist Herself
Ms. Pierce spends numerous hours at her drafting table, looking out at the woods and painting with the added help of her seven Persian feline companions.